Jeffree Star Cosmetics Holiday collection 2017
Nee, de familiy collection die pas geleden uit is gekomen is niet de  Jeffree Star Cosmetics Holiday collection van 2017. Die is net pas bekend gemaakt! Hier kun je lezen wat er allemaal uitkomt en waar het allemaal te koop komt. Ik ben in ieder geval enthousiast!
De  Jeffree Star Cosmetics Holiday collection 2017 Velour Liquid Lipsticks
Langste subtitel ooit. Anyway, dit zijn de Velour Liquid Lipsticks! Er zitten zowel neutrale als gewaagde kleurtjes bij, iets er tussenin, lichte kleuren, donkere kleuren … voor elke wens is er wel iets. En kijk die verpakking met glitter! Die komt regelrecht uit m'n dromen. Je hoort het al, ik ben een beetje bevooroordeeld en heb deze producten nodig. Met Mermaid Blood op #1.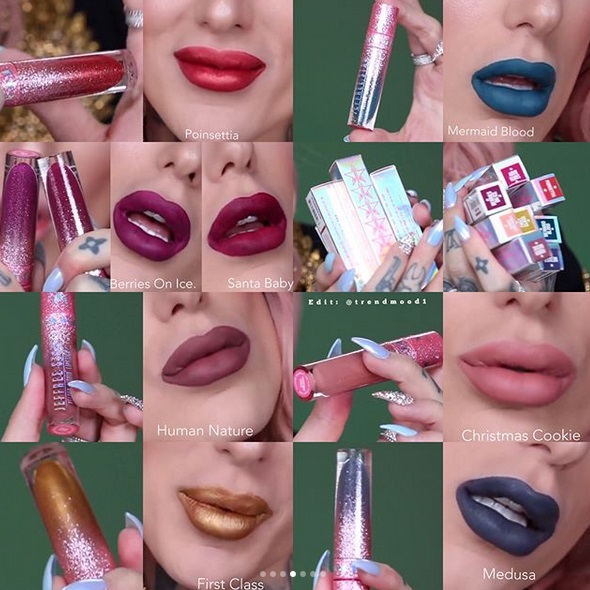 De rest van de collectie
De Jeffree Star Cosmetics Holiday Collection 2017 bevat meer dan alleen liquid lipsticks! Vooral de highlighter palettes zijn opvallend; tot nu toe heeft Jeffree Star Cosmetics alleen maar losse highlighters uitgebracht, de Skin Frosts. Nu komen het 24 Karat en Platinum Ice palette eraan! Beide Skin Frost palettes bevatten 2 kleuren die al eerder als singles uitgebracht zijn, de rest van de kleuren zijn nieuw in het assortiment. De highlighter palettes gaan $40 per stuk kosten.
De roze spiegel in de vorm van een ster die Jeffree op de allereerste foto in dit artikel vast heeft komt trouwens ook in de verkoop! Hij gaat $20 kosten. Da's een koopje voor een toverstaf.  De Lip Scrubs komen in de smaken Marshmallow en Lemon Icebox Cookies!
6,864 Likes, 353 Comments – TRENDMOOD (@trendmood1) on Instagram: "#REVEALED ???? Damn, that's a huge!!! @jeffreestarcosmetics #Holidays2017 #Collection and I had to…"
Waar en wanneer kunnen we deze collectie kopen?
18 december komt deze collectie op de website van Jeffree Star Cosmetics, en naar verwachting ook op BeautyBay en bij The Makeup Spot. Volg voor actuele updates de Matte & Shimmer Facebookpagina, daar plaatst ik zulke details zodra die bekend zijn.
Één dingetje is jammer: er is nu al bekend dat de Jeffree Star Cosmetics Holiday collection 2017 uitgesloten is van Black Friday korting. Daar hoef je dus niet op gaan zitten wachten, dus inslaan voordat het uitverkocht is!
Wat zou jij van deze collectie willen hebben?